R&R Kitchen and Bath
We offer an affordable all wood cabinets. You pick out the style you want, and we do the rest. Come visit our showroom or have us come to you. We always give you a free estimate.
We can deliver a kitchen to you in 10 days or less, and have one of the largest selections in Brevard County.
All Wood Cabinets
Our cabinets are all of wood construction, no particle board or engineered wood. We offer a quality product at an affordable price. Why Would you go anywhere else?
Services
Complete kitchen and bathroom remodels
Countertops (Granite & Formica)
Custom jobs, kitchens, bathrooms, offices, bookcases, entertainment centers and more.
Standards
Your home is a very valuable asset, so why not let a reliable, well-established company give you the personal attention you deserve? We will deliver a quality job in a timely manner, and make sure that you are completely satisfied. Remember, we are only as good as our last job!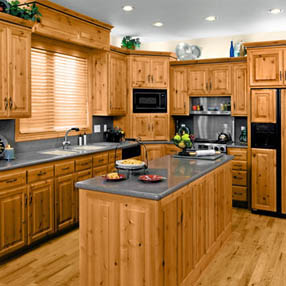 All Wood Cabinet
Our cabinet design process starts with the most important element of all and that is you, the client. You select the style of cabinet you want from our large selection of quality all wood cabinets. Remember, our cabinets are all wood, doors and face frames are solid wood, and the box is made from cabinet grade plywood. We never use particle board or engineered wood.
After your cabinets have passed inspection and are ready for install, we will professionally install them for you, or deliver them and let you install them yourself. If we install your cabinets for you, you can rest assured that they will be done professionally and in a timely manner.
In fact, we are so committed to quality craftsmanship, workmanship and service that our work has been the recipient of the Florida Business Today Spotlight.
So call or email us today to set up an appointment to discuss your Kitchen or Bathroom remodel plans! We gladly offer free estimates on all jobs.
Whether you need help with All Wood Kitchen & Bathroom Cabinets or Granite and Formica Countertops, we are the best option in Brevard County and the Spacecoast.
R&R Kitchen and Bath is a proud recipient of Florida Today Business Spotlight. We are also active members of professional societies.
Let us work for you and see for yourself how we exceed our customers' expectations.
We always offer a free estimate!